Global Events || Ideas || People || Studies || Opinions || Echoes || Topics To Follow
Details

Category: Geopolitical issues
Hits: 75
In the 1980s, American elites feared the rise of economic powerhouse Japan, but managed to contain its competitor because Japan was at root a vassal state occupied by the US military. However, China's rise today is a different story altogether. With 1.4 billion people, the largest economy in the world (by GDP at purchasing power parity - PPP), and an independent foreign policy, China's rise heralds the beginning of a multi-polar world.

The 'American Century' is over, but Americans cannot accept the fact that they - 5% of the world's population - cannot rule the other 95% forever. American entitlement and hubris are causing many to lash out and embark on a path that is perilous both to themselves and the world.

Incongruent Fear and Loathing

Let's take a look at some illogical American talking points used in the smear campaign against China:
"China is going to collapse soon!"
If Americans really believed this, they would sit back, smile and ignore China.
"China is going to take over the world!"
This paranoid warning usually follows the delusional, "China will collapse" claim. Make up your mind!
"Our free market is the best and China is communist!"
Americans conveniently forget that the US government subsidizes farmers, Big Pharma and the military-industrial-complex with hundreds of billions of dollars annually. Also, when developing nations subsidize Western corporations, it's applauded as smart business; but when developing nations help their domestic firms, it's vilified as socialism or communism.

What's even more interesting is that China now has more publicly traded companies than the US! There's more competition in "communist" China than in the "capitalist" US. For example, the US has one smartphone company (Apple), while China has Huawei, Xiaomi, Oppo, Vivo, ZTE, OnePlus, Transsion, etc.

Finally, comparing the economic growth of the US and China over the last four decades, no one can reasonably say that the US is superior to the China model: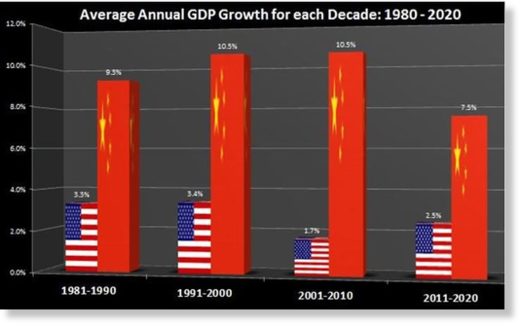 "China isn't open! It discriminates against US corporations!"
This is often accompanied by, "We should decouple from China!" This 'logic' hurts the brain.

Also, while demanding that China treat American companies just like Chinese companies, the US has placed 140 Chinese companies under the "entity list," meaning they can't do business with US corporations or the government.
"China censors Twitter, Facebook, YouTube etc."
This is followed by, "OMG! There are Chinese bots and trolls flooding our social media. Ban them, please!"
"China steals everything"
China has been #1 in both scientific publications and patents for the last few years. Why? China spends $300 billion a year on R&D and graduates 8 times as many STEM graduates as the US. Chinese companies like Huawei, Alibaba and SenseTime are leapfrogging over the US in AI software, AI chips, database software, 5G etc. And young Chinese people have the "9-9-6" work ethic - they work 9am to 9pm, 6 days a week.

Well, it's like sports where partisan supporters are certain that the other team won only by cheating.
"China forced US corporations into technology transfer"
In exchange for technology, China offered generous subsidies and tax cuts that allowed US corporations to make trillions of dollars over the last 40 years. To put it succinctly: China bought the technology from American, European, Japanese and Korean companies. Americans didn't mind the technology transfer, because they never thought that China could compete - after all, China merely employs slave labor to make crappy products, right?
"China is a totalitarian government! We are so amazing because we have Democracy!"
Democracy in America is a joke. As Joseph Stiglitz, former Chief Economist of the World Bank said, "America is of the 1%, by the 1% and for the 1%."

The Chinese government is based on meritocracy and has a 90% approval rate. While it's not perfect, it has done a remarkable job in the last 40 years by lifting 800 million people out of poverty and creating the world's largest middle class.

Also, note that the US never tries to spread democracy in Saudi Arabia, Kuwait, the UAE, etc. 'Freedom and democracy' propaganda is a selective tool, not anchored to any consistent values or principles worthy of being called such.

Atrocity Propaganda

Like "Saddam threw babies out of incubators" or "Assad uses chemical weapons," the US started the "1 million Chinese Muslims in concentration camps" narrative in early 2018. While hundreds of diplomats and journalists from all over the world have visited these re-education camps in Xinjiang, the US establishment sticks to its pathetic atrocity propaganda.

When that desperate narrative fizzled out, whoever is responsible for conducting psy-ops in Washington DC restarted the "organ-harvesting" fake news with the help of Falun Gong and the World Uyghur Congress, both of which are funded by the US.

No matter how absurd or sensationalist, it's never a "conspiracy theory" when it's about China, Russia, Iran or any other geopolitical competitor.

Racism and Yellow Peril

Behind all this anti-China propaganda is deep-seated racism in Americans that cannot accept the Chinese as equals. If confronted about racism, Americans would say, "I only hate the Chinese government, not the people." However, this is clearly disproved by how Americans behave on social media, where any article that's negative about China instantly goes viral; and positive news about China gets ignored or even downvoted.

'Yellow Peril syndrome' is deeper among those in the US establishment. The right-wing is more blatant and sensational: "The Chinese aren't smarter. They CHEAT," tweeted Republican Senator Lindsey Graham. A US State Department official said, "It's the first time that we will have a great power competitor that is not Caucasian." The FBI Director upped the ante and called China a "whole-of-society threat." Like George Orwell's '
', the US media and social media influencers — Kyle Bass, Gordon Chang, Charlie Kirk, General Rob Spalding etc. — spew insane anti-Chinese hatred every day to rile up the mob.
Censorship
As Rania Khalek
pointed out
, corporate media is filled with spooks and US government officials acting as "analysts." Sadly, social media giants are also acting as state propaganda outlets.
Google, Twitter, Reddit, Facebook, Medium etc. are all actively purging pro-China voices, while tolerating what amounts to hate speech
.
Nathan Rich - an American living in China -
how YouTube actively worked against him. For example, his subscriber numbers would go down substantially, people could only dislike his videos but could not like them, his videos wouldn't show up in searches, etc. Twitter also purges pro-China people, but if there's a huge outcry - like when they deleted
Carl Zha's
account - the thought police would quietly reinstate a handful of the victims.
Anyone who's remotely pro-China on social media is vilified as a Chinese bot or a "Wumao" - a person who supposedly works for 50 cents/hour to spread Chinese propaganda.
On Reddit, there's a sub-group called "r/China" with 120,000 members. But you won't find anything positive or neutral about China in that group — it's a sewer of racism and hatred. And people who post positive news about China also get banned or attacked by online mobs.
From corporate media to social media, only one-sided sensational claims are allowed.
The concept of 'freedom of speech and expression' in the US is a farce.
Conclusion
The USA is exhibiting all the symptoms of late-stage capitalism or a dying empire — deep internal divisions, extreme wealth inequality, exploding debt, brainwashed masses, overextended military, and paranoia about geopolitical competition.
Meanwhile, China has a lot of room to grow, since its GDP-per-capita is still only $10,000 overall and $20,000 in big cities. China's strategy is to keep calm, maintain growth, expand trade, and become technologically independent by 2025 — especially in semiconductors. By 2030, China's nominal GDP will be larger than that of the US; and Asia will account for 40% of global GDP. If China can successfully navigate all the proxy and hybrid wars waged by belligerent America in the next decade, then China and Eurasia will be the shining stars of this century.
Taken from SOTT - Signs Of The Times - Great general news source
Details

Category: Middle East
Hits: 60
If Turkey were to attack the SDF to the north while the Syrian SNA attacks from the west, Kurdish forces would be hard pressed to defend the oil fields, thus depriving the PKK/YPG of much needed resources.
---
The Russian and Turkish leadership attended a summit in Ankara on September 16th, 2019, where the two leaders agreed to cooperate in Syria. Besides such cooperation, Mr Erdogan and Mr Putin also committed to the future of the Turkstream pipeline. And at the MAKs air show, Mr Erdogan expressed his great interest in the potential purchase of SU-35 fighter jets, and perhaps the SU-57 when it becomes operational. Consider too, the additional element of NATO member Turkey's S400 defensive missile purchase from Russia, despite warnings sanctions imposed by the United States.
In light of the above, a picture emerges where this important NATO member has either defacto withdrawn from NATO, or is threatening to do so. So what is any US leader to do? The answer is that the US must initiate new cooperation with Turkey, and respect Turkey's security concerns as a NATO ally.
Turkey's security concern relates to forty years of operation by the PKK inside the country.  Even the United States – supposedly an ally of the Kurds – has listed the PKK as a terror group. While such labels are largely meaningless, that designation by the US of the PKK highlights the great element of hypocrisy present in US foreign relations, and its alliances.
Thus Trump has made his move, removing US troops from Manbij, to allow Turkey to subdue the PKK/YPG in northeastern Syria. Simply put, Trump is attempting to appease Turkey and bring Turkey back into the NATO fold, while Erdogan plays both sides. It's called geo-politics. Simple. And unreported by the major media.
Also unreported by the major media is the US destabilization of Syria since 2011. US State provided the funding and backing for that insurgency. And US State provided the weaponry. Now Neocons and Neoliberals cry about the tragedy in Syria, a debacle that the US created beginning in 2011.
The United States has no right to be in Syria. The United States was, and still is in Syria illegally, according to international law. Obama relied on the unconstitutional AUMF to destabilize Syria in 2011, and then to invade and occupy Manbij and al Tanf, where the US still protects terrorists today. The AUMF is also illegal under international law, and even according to the US Constitution.
Likewise, Russia does not welcome the US withdrawal, since Turkey's attempt to establish a 20 km 'safe zone' along the northeast border may potentially destabilize much of the northeast, and could place Russian forces in harm's way. But the greater point is that the legitimate government of Syria has objected to all forms of international adventurism there since 2011, as it attempts to craft a new Constitution that will likely favour Kurdish measures for autonomy.
Just two days ago, ISIS attempted a break-out from al Qaim in Iraq, with the potential to strike Syrian oil fields east of Deir Ezzor, held by the SDF. (Those eastern oil fields have been plundered by the US for many years.) The ISIS attack near Deir Ezzor was foiled by an Iranian militia group present in the area, and turned back, with no participation by US forces from al Tanf. Reports have emerged indicating that Iran made overtures to the SDF to protect the oil fields near Deir Ezzor, however such cooperation is believed to be unlikely.
If Turkey were to attack the SDF to the north while the Syrian SNA attacks from the west, Kurdish forces would be hard pressed to defend the oil fields, thus depriving the PKK/YPG of much needed resources. Complicating this however, is Iran's interest in pushing the US out of eastern Syria, where the US still has an air base in al Tanf.
In the end, it will be necessary for the Kurds to strike some sort of agreement with Turkey, Iran, and Syria, to provide the northeast region some form of autonomy and security, without the participation of the United States or Israel.
Speaking their own language and a proud and resourceful people, the Kurds may find that their best interests are served now by a political realignment, refraining from their association with Israel and the United States in an ever-changing geopolitical climate. Such a development will represent a major shift in Western Hegemony, highlighted by the fact that the former United States and Israel are incapable of granting the Kurds their own state.
To paraphrase (with great license) Mr Trump:
"The US was supposed to be in Syria for thirty days, that was in 2011 when the Clinton's and Victoria Kagan-Nuland controlled US State. The United States stayed in Syria and got deeper and deeper into battle with no true goal in sight. The Kurds cooperated with the US, but were paid massive amounts of money and given billions in US military equipment to do so. They have been fighting vs Turkey decades. It is time for the United States to get out of these ridiculous Endless Wars, many of them tribal."
---
Steve Brown is the author of "Iraq: the Road to War" (Sourcewatch) editor of "Bush Administration War Crimes in Iraq" (Sourcewatch) "Trump's Limited Hangout" and "Federal Reserve: Out-sourcing the Monetary System to the Money Trust Oligarchs Since 1913". Steve is an antiwar activist, a published scholar on the US monetary system, and has appeared as a guest contributor to The Duran, Fort Russ News, and Strategika51.
Published in The Duran
Please consider support of The Duran.
Details

Category: US, North Amerika
Hits: 67
First published on Oct 9, 2019. Listen to Peter Schiff is always a great pleasure.
Details

Category: Wealth, monetary issues
Hits: 67
Details

Category: US, North Amerika
Hits: 75
See also "Nunes: Ukrainian whistleblower is no different than Russia hoax" @ FoxNews ( www.youtube.com/watch?v=vIOquHZ1XWA )
Details

Category: China, Fare east
Hits: 75
Citizens in China must have their faces scanned to have the internet installed
The rule is part of China's social credit system and will take effect on Dec. 1
Authority claimed the move could help improve the nation's internet security
China has been building the world's most powerful facial-recognition system
The nation is due to be equipped with 626 million CCTV cameras by 2020

China has stepped up its internet censorship by demanding its citizens pass a facial-recognition test to be able to use web services.
People who want to have the internet installed at home or on their phones must have their faces scanned by the Chinese authority to prove their identities, according to a new regulation.
The rule, which will take effect on December 1, is said to be part of the social credit system which rates the Chinese citizens based on their daily behaviour.
See more @ MailOnline
Details

Category: Geopolitical issues
Hits: 84
There is a strong current of change affecting the international political arena. It is the beginning of a revolution brought on by the transition from a unipolar to multipolar world order.
In practice, we are faced with the combination of several factors, including the application of US tariffs on Chinese exports, Washington's sanctions on Iran, US energy self-sufficiency, the vulnerability of Saudi industrial facilities, and Iranian capabilities for resisting US attacks, as well as its exportation of large quantities of gas and oil to China. Everything converges on one factor, namely, the looming decline of the US dollar as the global reserve currency
We have recently been witnessing events of considerable importance in the Middle East, almost on a daily basis. The tensions between Washington and Tehran are fueled above all by the Trump administration's need to placate most of the US deep state, wedded to neoconservativism, who march in lockstep with Trump's financiers from Wahhabi Saudi Arabia and Israel.
The aggressive policy towards Tehran, consisting of provocations and false-flags, has recently resulted in the type of public-relations disaster for the US military-industrial that I have anticipated for years would happen.
The attack by Yemen's Houthis struck two major oil installations in the Kingdom of Saudi Arabia, exposing the shortcomings of the very expensive American Patriot air-defense systems.
This attack shocked policy-makers around the world by demonstrating how low-cost, asymmetric means of warfare can be effective beyond all expectations, able to inflict billions of dollars worth of damage with an outlay of just a few thousand dollars. The real extent of damage caused by the Houthi attack remains unknown, with Aramco struggling to provide official information.
More than 50% of the oil production was interrupted by the attack, with unconfirmed reports suggesting Riyadh may need to import considerable quantities of oil from Iraq.
As if this scenario were not enough to complicate Saudi survival plans, Israel and the neoconservatives are pushing for an armed response against Tehran that would see Saudi Arabia bearing most of the cost. The Al Saud family, aware of Iranian military capabilities, seems to have softened their belligerent tone against Iran. ...
See the full article @ Convert Geopolitics